Celebrating Darius Rucker's Birthday With A Few Of Our Favorites
That voice.
Those moves.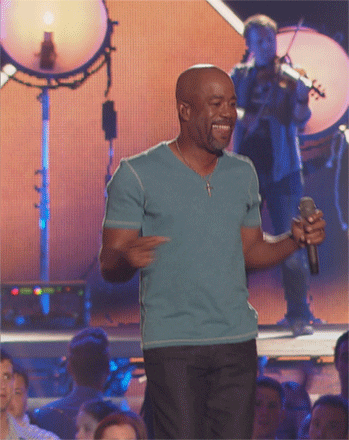 That smile.
Darius Rucker's joy is infectious, and evident every time he gets on stage. Today we celebrate Darius the country artist, on his 54th birthday, with a glance at a few of our favorite songs.
Wagon Wheel– the song was originally written by Bob Dylan and  Ketch Secor of Old Crow Medicine Show. Dylan wrote the chorus in 1973 and 25 years later Secor added the verses. In 2004 Old Crow Medicine Show released their version. But Darius made it a sing-a-long anthem in 2013, with the help of Lady Antebellum (singing backup). It has become Rucker's signature song, and a karoake classic!
2.  Alright– Darius' 2nd most popular song has been certified platinum 2x! He co-wrote this one with his producer, Frank Rogers and took it to              #1 in 2009
3. It Won't Be Like This For Long– Rucker co-wrote this pull at the heartstrings song that has country music stamped all over it. It follows             the story and a couple who have a child and how quickly she grows up.
4. Comeback Song- Admit when you are wrong, and maybe you can comeback. Darius co-wrote with Casey Beathard (dad of Tucker) and someone you may have heard of… Chris Stapleton! It was the lead single off his 2010 album, Charleston, SC 1966.
5. Straight To Hell (featuring Jason Aldean, Charles Kelley and Luke Bryan)- although it wasn't a big hit for Darius, it sure was fun! The                    song and the video grabbed certainly grabbed our attention! The song originally was recorded by a southern rock band, Drivin N Cryin in                  1989. Darius released his version, with his good friends, in 2018.
Carolyn Kruse Country 102.5 Boston midday personality
Sign me up for the Country 102.5 email newsletter!
Become a VIP member today and get access to exclusive contests, country music news, and be the first to know when your favorite artists release new music and are coming to town!
By clicking "Subscribe" I agree to the website's terms of Service and Privacy Policy. I understand I can unsubscribe at any time.